THE SWORD AND THE PEN
The Sword and the Pen, an original play written by Rick Bonnette, traces the friendship of General Ulysses S. Grant and Mark Twain.   Unconditional Surrender Grant rose from humble frontier Ohio beginnings to Commanding General of the U.S. Army  and the 19th President of the United States.
From a similar, but more familiar background (think Tom Sawyer) his friend Samuel L. Clemens endeared himself to generations of Americans as an author and humorist.
This is their story!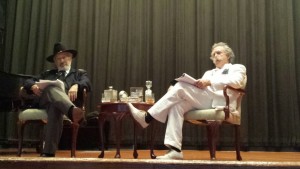 The play takes literary license, not by pairing Grant and Twain, but by a twist of forgivable fiction that has Mark Twain and former President Grant stumping on a book-selling lecture tour.  Twain did in fact publish and publicize the Personal Memoirs of Ulysses S. Grant at a time that provided providential.
It is commonly known that President Grant could resist everyone but his political allies and Wall Street schemers.  His friend, Mark Twain, was easily as unworldly in the ways of business.  If misery loves company then Grant and Twain were quite companionable.
Former President Grant, at the height of his universal acclaim, fell victim to a toxic combination of the Bank Panic of 1884 and a misplaced allegiance.  Grant invested with his son Buck and his son's business partner Ferdinand Ward (think Bernie Madoff)
in a Wall Street brokerage firm- GRANT & WARD.  The venture went bankrupt and much of the General's money and reputation go with it.
Mark Twain prompts General Grant to write his memoirs for both posterity and financial salvation.   Mark Twain, could not know then that his day of reckoning would come.  He had just completed his masterpiece, " The Adventures of Huckleberry Finn" and was on top of the world, literary and otherwise.
Our playwright suggests that pairing of Twain, the Irascible, with Grant, the Irrepressible, should have happened exactly as he's written it.  Our modern audience will experience expected laughter and unexpected tears.
Join us an cheer the courage and determination of General Grant and the wit and humor of Mark Twain.