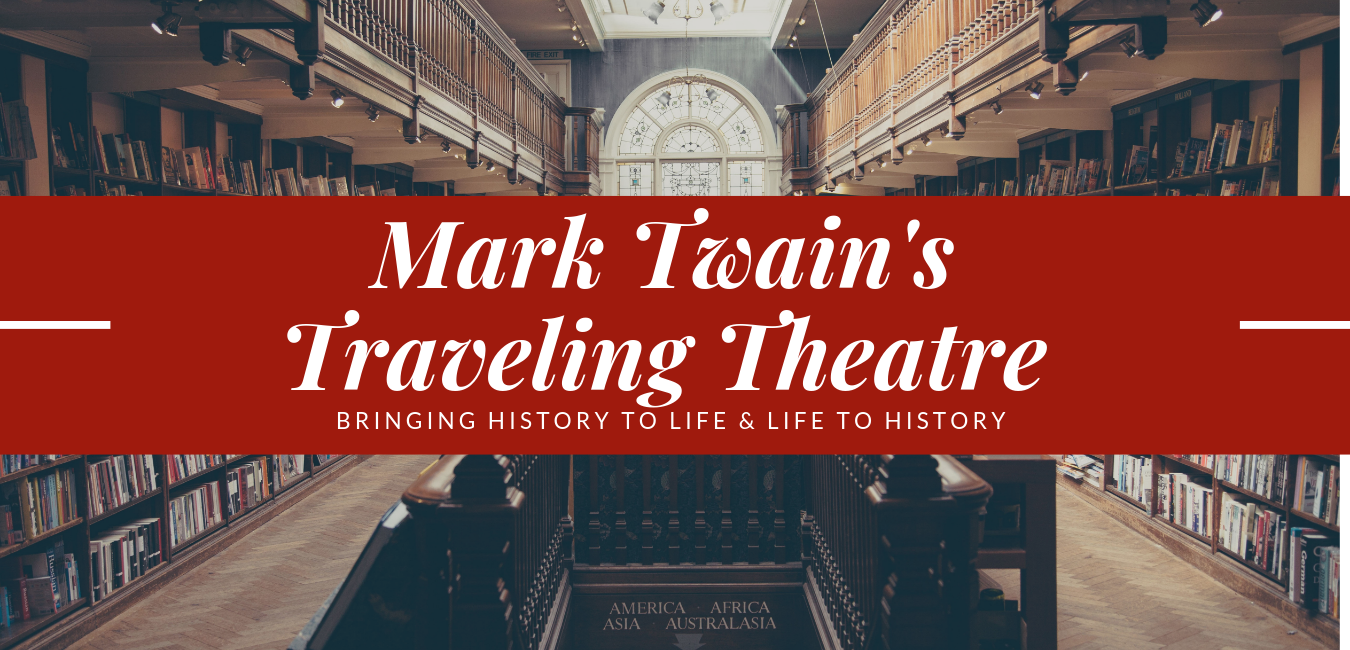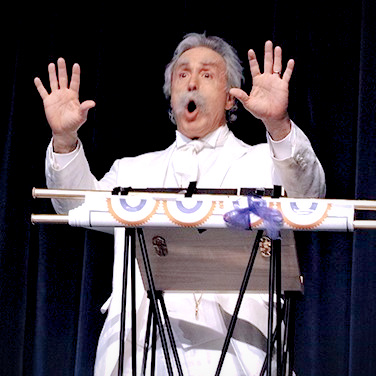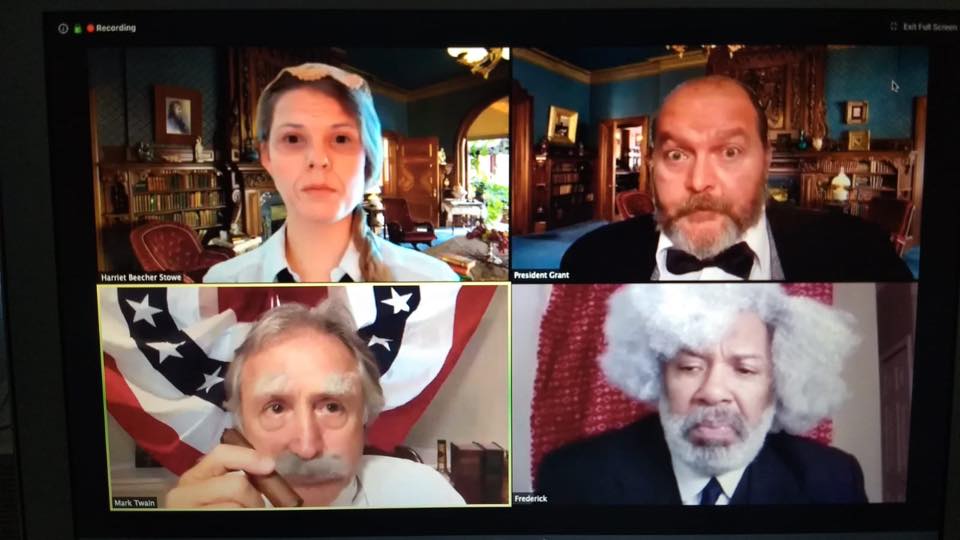 Mark Twains Homepage Library Background
About Us
We are Mark Twain's traveling theatre and we perform our Living History productions for discriminating theaters and libraries. The common thread is a general love of history and a specific fondness for Mark Twain.
Slide 3
Mark Twain's Traveling Theatre brings you
live Zoom performances from the comfort of your home.
Mark Twain's Traveling Theatre is bringing a little light to the darkness.  Since May 15th we have performed 15 Live Virtual performances from a repertoire of six original works (and more in production).  These works involve among others the fascinating lives of Mark Twain, Frederick Douglass, Ulysses S. Grant and Harriett Beecher Stowe. This is history as it should've been written, sort of like the History Channel with a sense of humor.
This iteration of MTTT was formed to bring you Live Theater in the safety and comfort of your own home.  Tired of your own home and of being quarantined.  Well aren't we all.   The next best thing to being in the theater is to kick back with an adult beverage and enjoy a historical (hysterical) play performed by your favorite performers.  We are making it possible for you to enjoy our remarkably talented actors from across the country.  Yup, Virtual Theater can do that.  Please visit our Performers page to read more about our accomplished actors and actresses.
Do you miss your local, community theater?  Well, so do we!  They are trying valiantly to bring live theater to you with something of their former glory.  They will succeed.  Soon we hope.  In the meantime, we propose to provide you with another way to enjoy your local theater.  We intend to collaborate with your local theater group to showcase their talent on our Live MTTT Shows.
Has it really come to this?  Yes, theaters are finding it more difficult by the day to keep the lights on.   The theater-going public has been wonderfully generous and remarkably patient but how long can that last.  Mark Twain might have said: "Good intentions don't pay the bills."  To help you, help your local theater, we have set up a full proof formula.   You pick the show, pay for it, and then just sit back and enjoy it.  Name your theater and a significant portion of the ticket price will go to them.
And what will you watch?  We will bring you some of America's Greatest Heroes in their glorious and their all too human moments.   This is not a history test but we challenge you to watch and separate the fact from the artifact.
In any event you will be painlessly edified, entertained and educated.
Join us for "His Excellency Mark Twain", "Stowe's War" "Twain for President 2020", and "Twain for Our Times".  Watch them live as announced or on demand, recorded for your convenience.
If you haven't seen any of these shows live, then what are you waiting for? An invitation? OK, so here's an invitation.  If you have seen these and you are one of our loyal, binge watching fans then you will be pleased to know that we have added two new shows featuring Frederick Douglass and U.S. Grant.
Finally, if you have suggestions for future shows then let us know. They can't be any screwier than what we have planned.
Watch Now!
---
If you've seen these shows and enjoyed them, then let your friends and family know. If you haven't seen them, what are you waiting for.  They are available Live and/or Recorded from the comfort of your home.
If you haven't seen any of these shows live, then what are you waiting for? An invitation?
OK, so here's an invitation- visit us at Marktwainstravelingtheatre.com. Check in and we will notify you weeks in advance of upcoming shows to come and how get access to a recording of your favorite show.
Get in touch with us: